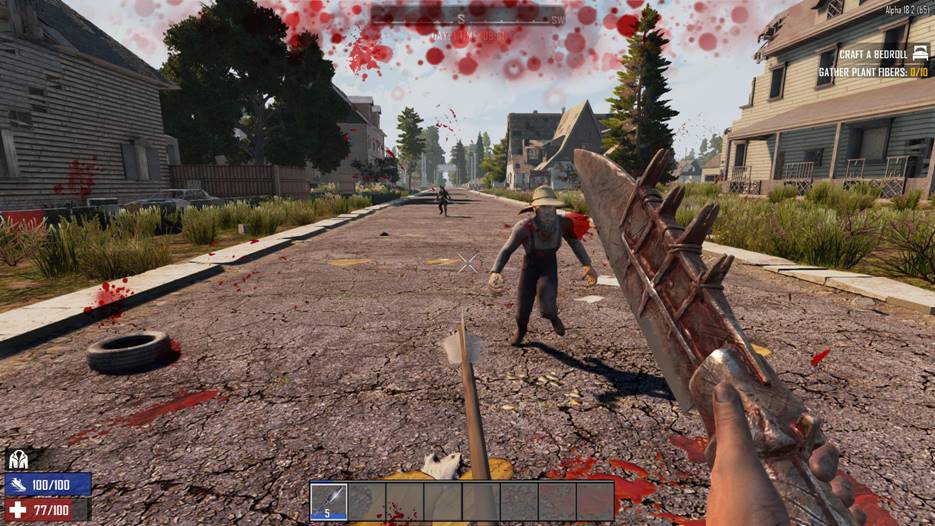 A roadmap to how to survive the first waves. Many tips for your first safe house and the building of your first horde security tower. To the new players … A new player. Clear ideas checked in a let's play, nothing fancy or unlikely.
Tips and Tricks for Your First 7 Days.
First, accomplish all the quests.
Once the game begins, you'll be given some initial quests that act as beginning tutorials. Your initial spawning area is covered, so nothing in it can threaten you. And you're free to live in the place you born in. I'm not sure how big this is, but don't go too far!
Try to complete all the quest while in this area, even building 3 blocks and setting up a campfire. You're not going to be able to take those with you, but it doesn't matter. Just complete the quests here. Yet you're going to be able to take the bedroll, so take that one. It's going to be used later on the first safe house. The last task you'll have is to go to a dealer. So that is where you're going to step away from the starting place.
Travel to the merchant
As I said, this is going to be your last search. You will be uncovering the areas of the map when you continue your journey. Don't get too distracted by the way, because you need to reach the trader and find a place to stay before the night comes. When you want to come back to it later, you can mark some spots of interest in your map. When you walk/run to the dealer, rob some bird nests and rubbish you encounter along the way, but bear in mind that you're running as far as you can. Time is moving quickly.
Finally, when you reach the dealer, half of the map will be exposed. Try it out to see what roads or routes you've found.
The dealer locks his doors at night, and you're going to be thrown out, so don't presume you should stay there at night! It's time to get rolling until you meet the dealer. You should head back to the dealer later. We need to search for the first secure place right now!
Search for the first town or city
It's time to decide where to go from the dealer. There is really no correct answer here, as the map will be generated randomly. Your safest option is to take a path in either direction. Sooner or later, you're going to hit a town or area.
Also, don't get upset. Label stuff on the map to come back later, but keep going. Your goal is to locate the first city/town before it gets dark and the zombies start moving. The subsequent theft of houses, garbage, and bird nests are all that. Sometimes, knock down some trees and pick up some of the boulders on the way. You're going to need wood and rocks for some carving on the first night!
Your first safe house
After you've reached your first town or city, you'll need to pick a safe house. Each town is going to have different styles of homes. The safest ones to select as the first safe house are two or three-story-high houses. We have an open terrace on the roof, which can be accessed by a wooden ladder connected to the wall on the last landing.
Beware that these structures have sleepers on them. Reach them not through the doors, but through the walls, which are generally easier to smash. Try to kill the sleepers with arrows while they're sneaking around. Clear the remaining zombies inside and head to the roof.
When you reach the ladder in the roof field, lift the first block by knocking it out with your stone ax. It is going to keep the undead from passing into it. You're only going to be able to scale the ladder by landing.
When you're lucky, you'll be in your first house by the end of the first day, when it begins to get dark. You should use the night time to stay safe in the rooftop, craft, and organize your inventory. You're expected to put your bedroll here now. Always craft and set up a campfire and several chests to hold your loot and supplies. Live here to craft and test out your stats and skill points at night. Day time is going to be to raid and gather money.
Loot and readiness for Your First Horde Night
It's time to focus on the preparations for your horde night. You're going to need a position where you can handle a fairly secure incoming swarm. I recommend a very simple 5×5 "tower" made of cobblestone, with a layer of spikes around it (2 rows if possible).
To build this, you'll need to gather lots of wood, rocks, and, if possible, iron. The iron you're going to get from picking up boulders and rocks at ground level, no mine is needed at this time.
While you spend your nights on the rooftop, check out the materials you need to make a forge. It's an essential workstation. If you could make this one in the first 7 days, that will be perfect. You'll need a few bits of leather that you can get by skinning animals or tearing down leather chairs or sofas in town. Scrapping leather shoes, too.
You're going to use all the steel you get from digging boulders. Melt the iron on your new hammer, and start building the anvil. When that's finished, you'll have your forge ready to make quality equipment and supplies. Pay heed to your appetite and thirst. You can survive this time with fruit, but you're going to be extremely hungry and thirsty. Consider shooting some pig or deer you encounter. Often, hold any container and glass jar you find and fill in every local pool of water (lake, river, pond) from time to time. You're going to need this! When you're next to the snow biome, you're going to be able to make drinking water from snow, so do that instead.
Your First Horde Defence Tower
The target now, as I said, should be to build a 5×5 cobblestone structure. Begin by making the requisite flagstone blocks, and position them in a 5×5 square in a flat area. I propose that you do so fairly close to your safe-house, so your travels back and forth are limited. The highways are a good alternative for that. This tower does not have any doors or window openings at all. Just a 4-5 level tower, so you stay out of reach from the zombies in the ground. You're going to use wood frames as a scaffolding to build and move up the tower when it's needed. No staircase, no stairs at all!
When you have hit level 4 or 5 of the house, using wooden frames to make the top deck. There's no need to patch them. You're going to be perfect. Also add an "overhang" to the top level with the wooden frames, extending one block, so you can stick a bit out of the border without falling. The frames will allow you to shoot through, so don't upgrade them. The idea of this overhang is to be able to shoot arrows through it to kill the zombies that will be down on the horde night.
Now, it's time for you to design and position 1-2 layers of spikes around the roof. A big single shot. You're going to need a lot of them, but they're going to be handy when the horde arrives.
If you can, raise the flagstone walls to cobblestone and the spikes to one or two more tiers (you'll need iron to do that). It will take more time and will keep you occupied for the first 7 days.
UPD: I'm actually writing a Let's Play Adventure on 7 Days to Die, and the same one used to make a video version of this guide. You will look it out here.