If You're looking for a way to make a profit with horses in Farming Simulator 19, Here's How You can do just that.
Buying the Paddock and the Pony
Paddocks are in the placeables list under animal pens.
Horse paddock (8 horses)-€50,000
Wide horse paddock (16 horses)-€95,000
Click R on the square after purchasing a paddock and pick a horse.
You Have 8 types of horses to choose from.
Each horse costs 5,000, €and if you don't move it, the fee is 300, €so I'd recommend you buy it this way. (The trailer costs €16,000 or €1,280 if you're leasing and if you're buying just one horse, it's more expensive).
Buying the horse and moving it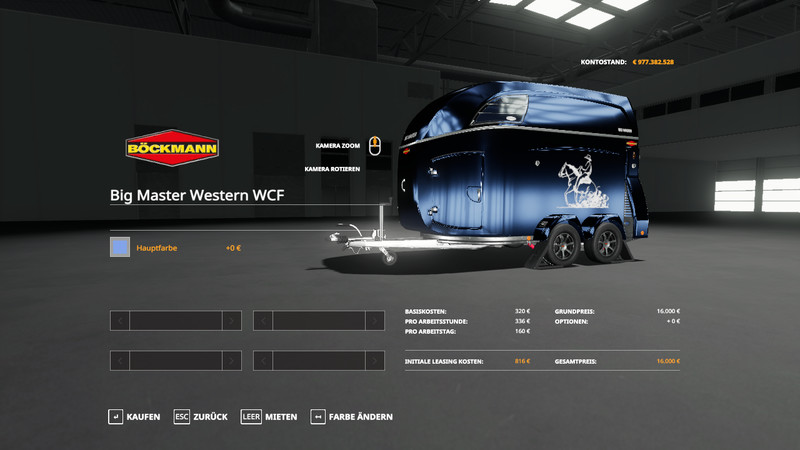 When you want to move a horse so you don't have to pay a price of €300, try this.
The distributor of the animal is located:
Close to field 14 at Ravenport.
Close the barn (Fields 16 and 25) at Felsbrunn.
You ought to hire or purchase an animal truck (under horse transport).
If you're looking to purchase 4 or more horses, rent the trailer, even if you don't pay the €300 it's cheaper for "one time."
Once you have purchased your mount, unload it at the very same location as before.
You put a paddock, you purchased a horse. what to do now, huh?
In this segment, you can learn how to keep your horse fit, clean and stable, and how to feed it.
Give it water, straw, and supplements to keep your horse safe. One horse requires 350 liters of water and 700 liters of grass.
You need 3.500 liters of oats and 3.500 liters of hay to feed it. You may either cultivate your own oats and harvest them or buy them in a store.
Riding the horse and keeping it clean
You feed your pet, and it's all 100 percent except agility.
Each horse you purchase has 5 percent fitness and you need to ride it every day.
As you can see, my horse isn't fit and it's not clean. Once you push it to 100 percent (Daily riding: 100 percent on the left) you're going to have to scrub it. Keep a left button on the horse to pick it up. As I've already ridden it, the fitness ratio will be up to 13 percent after 00:00 (12:00 AM).
The Horse Trading
Your horse is 100% fit, clean, and ready for sale.
Go to the Horse dialog (Place where you buy it) double click on the right side of your horse and hit Confirm.
Since my horse is not 100 percent but 13 percent, I will sell it for ~6,000 euros. A 100 percent horse will be sold for an extra €45,000. What you have to do is push it, keep it clean, and feed it. (The price goes up by ~5,000 €for every 10 percent).
Have you seen 40-Year-old Virgin? Well, I am 32. I started this blog as a gateway for other simps. Now we are 500,000 strong community.