Step One: Cutting down Trees
Clearly, the first step is to cut some branches. These may be trees that are just in the way of your farm and your fields, or you may be going to one of the forests. If you're concerned about making profits, my advice is to cut trees that are thicker than 500 cm (the large ones). Such a tree should give you 5k-9k income per tree, depending on your point of sale. Smaller trees make a lot less profit for the same amount of work.
You will chop down the trees with:
A chainsaw-The cheapest equipment and allows you to do all the work you need manually. If you like to do it this way, there's a lot of money to save, but it's time-consuming, no matter how good you get.
TR3200 Tractor-This connects to any tractor and breaks whatever tree you run into quickly. But then you have to chop off the trees and most likely break the log into smaller and more compact parts with a chainsaw. Remember that you can lift and lower the hydraulic bumps in FS17, which allows you some leverage over the cutting point with this tool.
A Skid steering wheel with RT3000 or CFB-16-This is similar to using a tractor, the tools simply cut the trees at the base and you have to cut off the branches manually and split the logs later. Handling skid steering can be a bit of a challenge (and fun) and you have more control over where the cut is made. Having a skid steering wheel makes logging in the terrain simpler than using a tractor, particularly when using a tracked version. In addition, the CFB-16 catches the tree, which effectively ensures that you'll fall over until it's sliced …
Finally, you should use a tree tractor, a little Sampo Rosenlew HR46X that only cuts small trees (so why not), and a Ponsse Scorpion King. The harvesters cut the tree, clear the branches, and cut it into manageable sizes.
Honestly, I advise owning the Ponsse Scorpion King for about 3-4 hours (make sure to put the game time in real-time!!!) and going for all the big trees in one of the forests.
Step 2: Collecting Trees
If you're looking to save money and go manual, you 're just going to cut the logs down to small pieces and pick 'em up by hand and use anything (pickup, tipper, trailer) to ship them. Such small logs can then be conveniently sold at a drop off point or cut into wood chips. (See points of sale)
Use a front loader tractor for a little less manual work and pick up larger pieces. The Fliegl Timber Runner is inexpensive and can carry long logs, making it a viable choice. Alternatively, get a telehandler or a wheel loader, but it's expensive and it's not worth the cost. Once, you get the most value for your resources and energy if you just stick to the major trees.
Next, you can use the small log trailer with the cranes, the FHL 13 AK, or the Ponsse Buffalo. The little trailer is doing a good job if you cut the parts to about 5 m. It doesn't fit as well as Ponsse Buffalo, but the Buffalo is slow and expensive. I propose that you use a small log trailer to catch and then move the train or the Fliegl Timber Runner for secure handling.
When you choose to produce wood chips from smaller parts (you can set the harvester to cut to 2 m or using the chainsaw) at the logging site, the Jenz HEM583Z is a decent choice for a cautious player, because it can be driven across any terrain with a tractor and has its own cranes. It spits the chips onto a bigger tipper for fast transport. Pick up all those little pieces, though, can get dull.
Step 3: Sale of logs or wood chips
At the end of the day, you want some money for your efforts and you can choose to sell the logs directly or make them into wood chips.
There are three drop-off points for logs, all of which give the same price. I 'm going to get about 5k for a big tree at any of these. If you're using a train to move, just drop off at the train stop at a sawmill using a big crane. It takes a lot of logs at once, so it's an easy thing to do. When you're using a truck, just bring it back in the pond after you unfasten the belts. The last suggestion is to drop logs off at the field in front of the sawmill, but that needs further effort, so why not bother.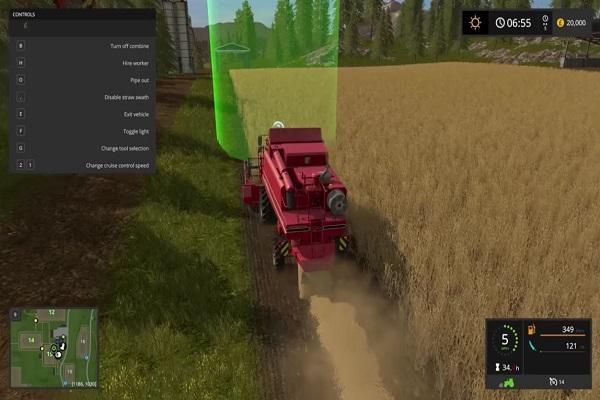 You can then make wood chips using the following options:
The HM4-300 is a small wood chipper that can only process small trees. You could do it with the Sampo Rosenlew harvester, but then, well, why bother …
Use the Jenz HEM583Z to pick up and process logs from the logging site. And deposit the chips at the sale point of the sawmill. This is a good transport choice, but you have to cut logs down to 2 m or less.
Use the Jenz BA725D to process larger logs (I used a small trailer and fed 5 m logs efficiently). Once, you need a tipper to pick up the wood chips and then dump off at the sawmill. The chipper can be pulled by a tractor and used everywhere, and this is a pretty useful choice when paired with a small truck. You might even position the chipper next to the point drop sawmill, but you end up with a stack that needs to be manually managed.
Using the Jenz HE700StA (in the placeables category) to process and sell directly. It offers a marginally reduced benefit, but it's worth it, as you don't need to ship wood chips and you can still feed 5 m logs.
Finally, you could put a heating plant in a nice place and sell your wood chips there. Nevertheless, the handy chip processor pays more, so why bother.
Overview and graph of revenue
What choice is better depends on how big you 're logging in. Using the most expensive equipment means selling a lot of logs just to make up for the cost. You can do a lot with the cheapest option, but it still requires a lot of physical labor.
Here's my advice: rent or lease the Ponsse Scorpion King and cut all the large trees in the forest near the field 20 to 5 m. Get a small truck to hold the logs. You can transport them by train (just cross the narrow bridge and place the train near your farm) and sell them at a sawmill. Alternatively, if you're willing to make a few more investments, get the Jenz BA725 mobile chipper and feed it 5 m logs with the trailer for a higher profit. You can also hold the wood chips and wait for a great deal of competition. When you're logging into a continuing company and planting more trees in the field, it may be worth getting a handy chipper for fast handling.
Place / Income for 500cm-a wide tree
Any point of sale for logs/5,070,-
Remote Chippers and Manual Drop off /8,815,-
Placeable chipper with immediate sale/8,060,-
Placeable heating plant/7,096,-
More Guides to read on the game
Have you seen 40-Year-old Virgin? Well, I am 32. I started this blog as a gateway for other simps. Now we are 500,000 strong community.